ACMA Compliance
The co-regulatory scheme established under Schedule 5 of the Broadcasting Services Act 1992 applies to Internet service providers and Internet content hosts. As a division of Amcom, Amnet promotes the supply of Internet carriage services at performance standards that meet community needs and complies with the principles laid down in this legislation.
The Act encourages the development of codes of practice to cover these sections of the Internet industry. The current codes were developed by the Internet Industry Association and registered by the ABA (Now ACMA) on 26 May 2005.
Regulations and Codes of Practice under the Act, including compliance criteria may be obtained from the ACMA.
CommCom Compliant
Amnet is also a CommCom member, complying with the obligations under the TCP Code Compliance Framework.
For more information please visit commcom.com.au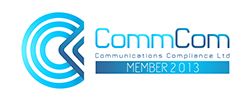 If you have a complaint, or any enquiries relating to Amnet's compliance with the Act, please contact us here